2020 saw us spend much more time at home than we would have liked, and while things appear to be going back to normal, homeowners' passion for redesigning their spaces is fierier than ever. Our kitchen is the focal point in our home; so having a great one is usually at the top of people's lists. A great kitchen makes it not only a fun and functional space, but where visitors go, "wow!" If you're in the market for a kitchen remodel, then you might get some inspiration here while we look at the best kitchen interior design trends this year.
Warmer Tones and Colors
While white remains extremely popular in kitchens, warmer tones and shades are starting to supersede it. Think of warm beige with accents of orange and aqua. Bright, or stark white was never truly popular, but the somewhat generic eggshell white homeowners commonly use seems to be dwindling in popularity. Interior designers are seeing people, because they are at home so much more these days, request warming and comforting colors and tones. White can make us feel cold and be overly functional, so some people are moving in the opposite direction. Colors that make us feel optimistic and positive like shades of green, natural wood tones, gold accents and woven textures are also emerging in popularity.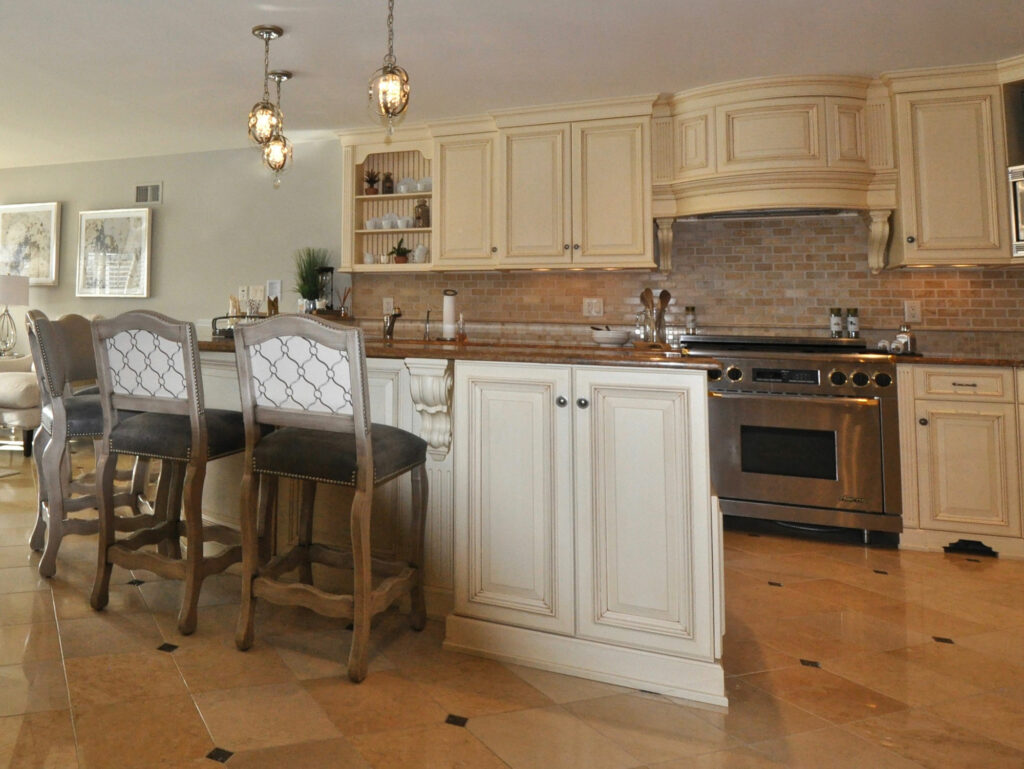 Adding in Vintage Pieces and Antiques
It goes without saying that what makes our home unique is that it is a representation of us, our style and even where we came from. So having pieces in a kitchen, particularly antiques or vintage family pieces are becoming more and more popular.
If our homes weren't a good representation of us, then they'd just be show homes. Adding in vintage pieces and antiques increases that sense of ownership and warmth we love about being at home. Homeowners are scrounging around for timeless, built to last and often inexpensive items at vintage fairs and markets.
But of course there's nothing better to have in a kitchen than something from within your own family. Find a piece that has been handed down generationally in your family to make your kitchen that little bit more special, and create a fun talking point with guests too. 
Touchfree Fixtures
Installing a new faucet is a fast and easy update any homeowner can make to update their kitchen. The technology used to make hands-free faucets these days is nothing short of mind-blowing. Not only do they make everything easy to use, but they are also great for maintaining hygiene and lowering mess in the kitchen.
Any contractor will tell you that motion-sensor and hands-free faucets, as well as touch-tap faucets, are far more popular than traditional kitchen faucets in renovation jobs they undertake. Now there's even voice-activated faucets! These faucets are particularly useful if you need exact measurements of water whilst cooking. 
These new faucets are more hygienic, and allow you to be more productive in the kitchen. Matte and brushed finishes are very popular with kitchen remodels because they don't show fingerprints. If warmer colors are more appealing for your kitchen, black faucets can be a great alternative.
The Farmhouse Trend
In terms of an overall theme, the Farmhouse Kitchen continues to be popular. The quaint, homely simplicity and rustic charm of these types of kitchen are popular in even the most bustling cities. Are certain home renovation TV shows set in Texas and Mississippi to blame for this trend? Perhaps, but people are still going with it regardless.
Reclaimed wood cabinetry is a distinct feature of this type of kitchen and is usually the first feature people notice in remodeled farmhouse style kitchens. Dining tables are also larger, heavier and simple in their design. The beauty of these tables is they won't move while people eat, nor will they creak when the little ones are doing their coloring in while mom and dad are cooking.
Tub style sinks and open shelves are also common in these types of kitchens. 
Wallpaper
Yep! It's back!
Just when you thought it could never make a comeback, wallpaper is being requested more and more in kitchen remodeling. While wallpaper is less scary to some people, it is more likely that this trend may take some time to really take off, if all. There are plenty of peel-and-stick wallpapers for trendy kitchen interior designers to choose from. These are incredibly easy to install and remove, thereby taking out the long-term commitment to wallpaper. Tile designed wallpaper is a popular choice, but not so much the flower styled wallpaper your grandma's house is infamous for.