The kitchen is the heart of the home…
It's no secret that we adore a well-designed kitchen. In our own home, the kitchen is our favorite place: where we make meals that nourish us, where we hang out, and where we spend time as a family. We've learned a lot over the years, designing kitchens for all kinds of clients, and now we're sharing our secrets with you. Read on to learn how to bring your dream kitchen to life!
Think about your kitchen priorities.
First and foremost, it's all about the layout. The kitchen is the part of the home where most people gather, eat, and spend their time, so it's critical that your kitchen layout suits your needs.
Are you a bona fide pastry chef? Then a large stone counter is a great place for you to roll out pie crust dough. If you're more of an entertainer, an open-plan space is great to host friends and family. This is the foundational step to get right – we're here for your layout consulting needs!
Try a new color.
Are you tired of your all-white kitchen, or do you have a color that you just don't love anymore? Trends are changing, and it's a great time to try out a bold new color or even a different neutral to spice things up in your kitchen. We're digging the wave of blue sweeping through kitchens these days – from sky blue to deep navy, it's a great way to add both richness and a sense of calm to your kitchen.
Think about your materials.
Materials have the power to completely change the way that your kitchen feels: from luxe to warm to soulful, the material palette can have a huge effect on the space's mood. For something warm, try using wood and natural stone tiling. For a sleeker look, we love quartz, as we used in our Rumson project above.
For non-designers, materials can be difficult to choose and source. If you have any questions, plan a call with us to discuss how the right material choice can shape your space.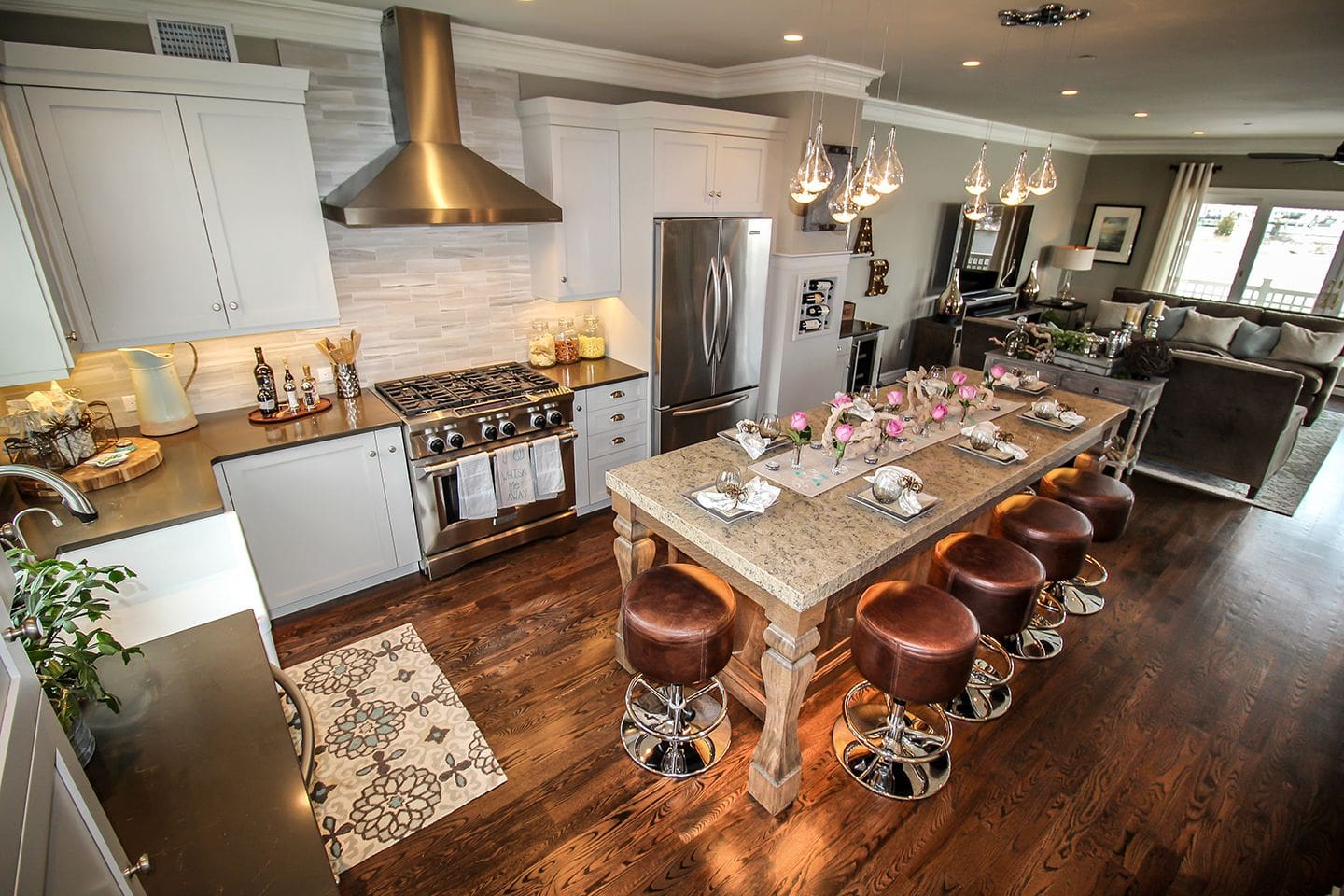 Don't forget about the cabinets.
When you're thinking about your kitchen design, cabinets might not be at the top of your list of considerations – but they're super important to the overall atmosphere of your kitchen! Whether you choose open shelving, shaker-style cabinetry, or anything else, make sure it aligns with your overall vision of the space. In this Lincroft project above, the sleek yet elegant cabinets complement the luxurious feeling of the project.
Current Inspiration
Curious about what's on our feed? Here are some highlights.
Vintage dreams
Warm and sleek
Cabinet love!