The bedroom: the best room in the house for rest, relaxation, leisure, and "me time". It's no wonder that so many people call this space their favorite part of the house! At EvenFlow Interiors, we know just how important it is for the bedroom to be well-designed in order to promote sleep, happiness, and peace of mind. After a long day, a calm bedroom is the antidote to the stress that comes from the hectic pace of everyday life. That's why this space is one of our favorite rooms to perfect every element - read on for more examples and photos of how we approach bedroom interior design!
A room's color sets the tone from the moment you walk in. Neutral colors, such as white or gray, create a soothing atmosphere that immediately puts you at ease. We love using a color palette that creates an oasis within the bedroom's four walls.
The light blues, grays, and whites make this Lavallette bedroom serene. Layering of these various cool tones creates depth while also making the room feel airy and calm.
Lighting is another element that's extremely important in shaping the mood of a bedroom. With our circadian rhythms so synched up with daylight, it makes sense that a good light source is essential to ensuring that you have a restful night. Soft lighting is a great way to keep the room bright without being harsh, and accent lighting is ideal to direct it just to where it's needed - like a great book in bed.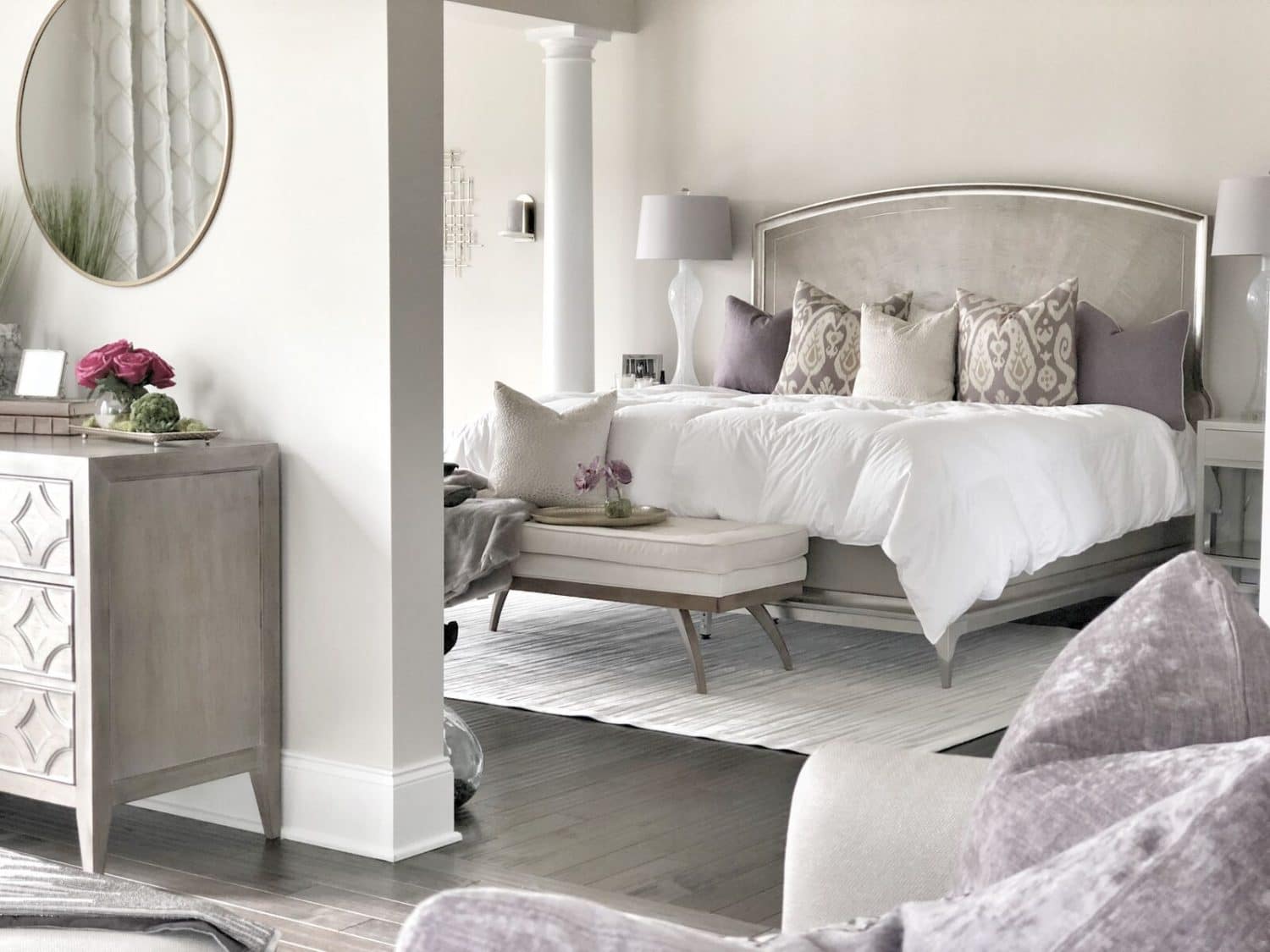 In our Lincroft project, tableside lamps add just brightness while units on the wall keep the room softly lit. We also arranged furniture to take full advantage of the natural light that illuminates the space in the daytime.
There's nothing quite like the feeling of sinking into a cloud-like bed. It's one of the most common asks we get from our clients - and with a few key elements, it's easy to accomplish. We love to include an ultra-fluffy down comforter for ultimate comfort and a neat aesthetic. Crisp white sheets complete the look and make sure that you'll be counting z's in no time.
Our clients in Belmar asked for the fluffiest comforter we could find. This bedding is a dream come true, with ultra-soft down feathers for warmth and coziness! There's nothing as luxurious as settling into this bed for the night.
On top of that gorgeous comforter, pillows can dress up a bed while also making it appear extra inviting. Decorative throw pillows that fit with the color scheme of the room tie the room together and add extra flair.
On this Lavallette bed, pillows are the crowning jewel. A symmetrical arrangement of these custom throw pillows ties the room together and adds flair.
An upholstered headboard is an unexpected element that can truly elevate a space. With so many generic headboard options out there, this technique adds a personal, customized touch to your bedroom.
This cream-colored headboard in our Bayhead project adds warmth to the room that complements its other rustic elements. Paired with clean, white bedding, this element really pops.
Bedroom Dresser/Nightstand
With all the attention paid to choosing the perfect bedding, it's just as important to pay attention to the surrounding furniture as well. Dressers and nightstands serve a dual purpose - they need to fill space in a beautiful way, while also allowing you to get organized in your sanctuary. We source the ideal piece for your lifestyle, taking the look, size, and features into account.
This chest of drawers in our Lincroft project is the ultimate in style and functionality. With ample space, it's ideal to store all our client's things. We made sure to emphasize the texture and color of this piece to bring out its unique qualities as well!
In bedrooms with ample space, adding a chaise lounge is another way to introduce luxury. When you're not in the mood to lay in bed, this piece is a great spot to sit and enjoy a view of the outdoors or relax with a magazine.
In this Lincroft room, the chair and ottoman is a great spot to perch when it's not quite time to get into bed. With fabric and finishes to complement the rest of the room, it's a natural extension of the bed itself.
Creating a bedroom paradise is one of our specialties. From the star pieces to the smallest accents, we are passionate about creating a space that allows you to completely decompress and feel your best. Whether you're just trying to get some much-needed rest or crave a full day of pampering in bed, a well-designed bedroom is just what you need.
We've created the perfect, dreamy bedrooms in so many New Jersey towns including:Bayhead, Belmar, Bradley Beach, Brielle, Brick, Hoboken, Lavallette, Lincroft, Spring Lake, and Sea Girt and many more.