The kitchen is truly the heart of the home. From preparing home-cooked meals to hosting dinner parties full of family and friends, there's many reasons why it's the place where we spend so much of our time at home. It's the perfect place to connect with others and share love through food, as well as the ideal spot to find peace in solitude and a great recipe. Which is why your kitchen interior design is so important.
Given the multitude of hours we pass in it, it's essential that the kitchen is a well-designed oasis. Whether you're starting from scratch or redecorating something existing, there's plenty of elements you can use to create your dream kitchen. Read on for examples of our favorite ways to customize, as we've done in many of our projects!
Kitchen Interior Design: Cabinetry
From custom design to beautiful styles and finishes, cabinetry comes in all colors and styles that will make your kitchen stand out.
In our own home kitchen, we installed shaker-style custom cabinetry for maximal storage and visual impact. Complimentary quartz countertops tie the room together. This is our favorite spot to gather as a family - and in such a beautiful space, it's easy to feel at home!
In our Rumson project, we took a different approach and used a gray cabinet to add dimension to the room. This color is all the rage right now, and when paired with other surfaces such as wood and quartz, it feels just right.
Kitchen Interior Design: Countertops
Countertops are another prominent part of your kitchen - so make them knockouts! Marble, stone, granite and, quartz are some of our favorite materials to add a luxe feel.
This photo from the same Rumson home as above shows how a mix of materials can work together in the same room. Using contrasting materials in a space can create something harmonious and exciting.
This dark stone countertop in our Brielle project contrasts with the white cabinets below, adding richness to the room that complements the deep wood tones of the accent wall.
Kitchen Interior Design: Backsplash
While you're at work at the stove, looking at a beautiful backsplash is a simple pleasure. Like other kitchen interior design elements, you can always customize this piece to fit your space. Marble, porcelain, and concrete come in a variety of patterns and colors that you can choose from.
This intricately-designed backsplash is a statement piece in and of itself. The natural granite countertops allow this element to stand out.
This all-white backsplash gives the room a feeling of simplicity and freshness. Paired with other statement elements, this piece allows other aspects of the room to shine.
Kitchen Interior Design: Lighting
Light is always one of the most important qualities of a room in general. With all the time we spend in the kitchen, it's extra important to have quality lighting elements. From the soft glow of recessed lighting to the drama of pendant fixtures, there's endless options to get the look you're going for.
In this Lincroft home, dramatic pendant lighting is a sparkling centerpiece above the island. Gorgeous light fixtures like this one add an extra level of glamour and luxury. For more dimension and flexibility, we added task lighting with under-cabinet fixtures. With several options incorporated into the space, there's lighting for every situation and mood.
Under-cabinet lighting is a subtle addition that can really dial up the ambiance of a kitchen. We added recessed lighting under this island to add a subtle glow and add warmth.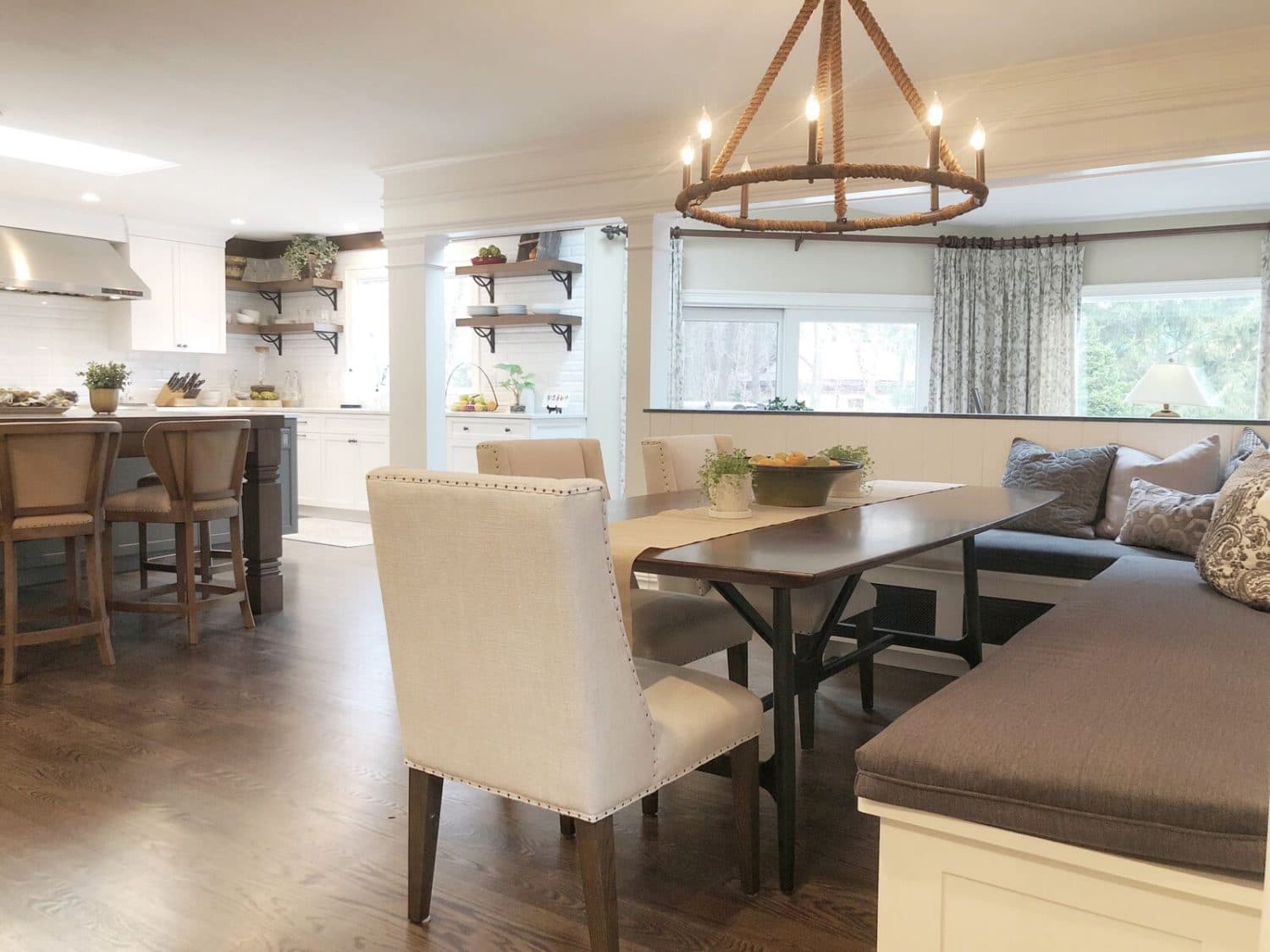 Sometimes, a chandelier is all you need to make a weekday dinner feel like a special occasion. In our Rumson and Belmar projects, adding these type of fixtures above the kitchen table was just the special touch they needed.
We believe that the best kitchens are those where all details are considered. From these larger elements to the tiniest decor details, we aim to create our client's dream kitchen in every project. There's nothing like enjoying a gorgeous space like the ones above surrounded by good food and people you love.