We could use a spa day…
When was the last time you treated yourself to a day of rest and relaxation? If you're like us, chances are that it's been a while. As the winter hibernation ends, it's the perfect time to show yourself some love with a spa-like experience.
The great news is that you don't have to leave your house – we're bringing the spa vibes to you. Read on for tips and tricks about how you can turn your ordinary bathroom into a sanctuary for rejuvenation in no time!
Tip #1: Curate your favorite products – and keep them organized.
What's your favorite spa treatment? If you're the facial type, keep your bathroom stocked with plenty of skincare products. If you're more into aromatherapy, fragrant oils and a gorgeous stone diffuser are essential. Creating a curated selection of your favorites allows you to work them into your routine on a daily basis – making you the best, most relaxed version of yourself.
Keeping the products organized is another must – there's nothing worse than searching for something when all you want is to step in the bath. Choosing a solid shelving system, like the one above, allows you to keep it all organized and looking good.
#2: Infuse some personality.
The best part about your home spa not being an actual spa is that you can infuse colors and designs that express your true self. There's nothing more relaxing than being in a space where you can be yourself and feel at home!
For our clients in Lincroft, we used a truly special wallpaper to match our client's sophisticated self. What better place to freshen up?
If you're looking to do something similar, wallpaper, paint, stone, and tile are great places to start to bring in the personal flavor.
#3: Try a eucalyptus steam shower.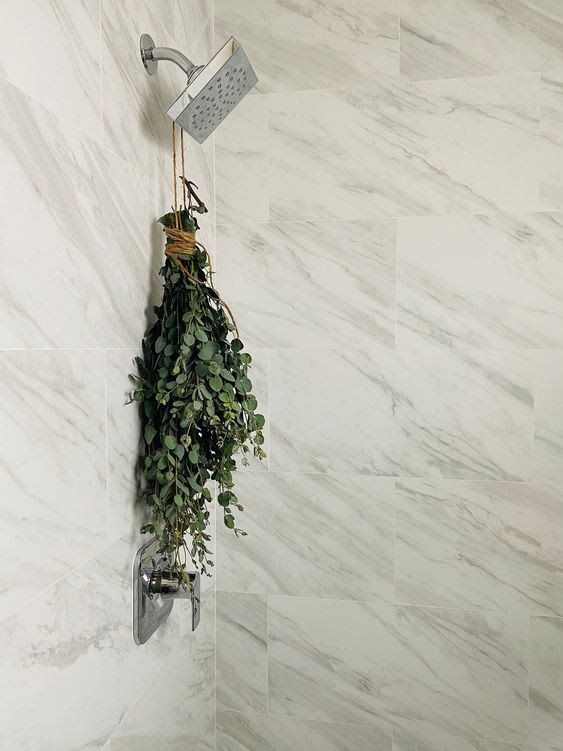 Some of the best DIY treatments are easier than you think. One of our favorite ways to get to zen in no time is simple: tie a few eucalyptus branches to your shower head, and turn up the heat. By the time you're ready to hop in the shower, your bathroom will be sauna-like with delicious smelling steam that does double duty by calming your skin!
#4: Use natural materials.
Materials found in nature instantly calm the body down – so natural stone is a great way to bring peace into your space to relax your body. A beautiful slab brings in an organic element that we love – some of our favorite materials are granite, marble, and slate (read our guide for more!). As a bonus – they're easy to clean and always look great!
#5: Invest in the pieces you've dreamed of.
For our clients in Belmar, the enormous bathtub looking out onto the water was an absolute must-have. And it was worth it! They're in love with the tub and use it regularly. If you're serious about relaxation, we highly recommend investing in your bathroom – from clawfoot bathtubs to saunas, there's something out there for you.