At Evenflow Interiors, we believe that homes should be practical, functional and beautiful. This is true for every room, including the bedroom, which is too frequently overlooked.
Rather than being an afterthought, it's wise to make bedroom design a priority. People spend an estimated one-third of their lives sleeping, and even more time relaxing and unwinding. Accordingly, having a luxurious and well-designed bedroom isn't an extravagance. It's a necessity.
Try one of these amazing bedroom design ideas to make this room your favorite space in the house.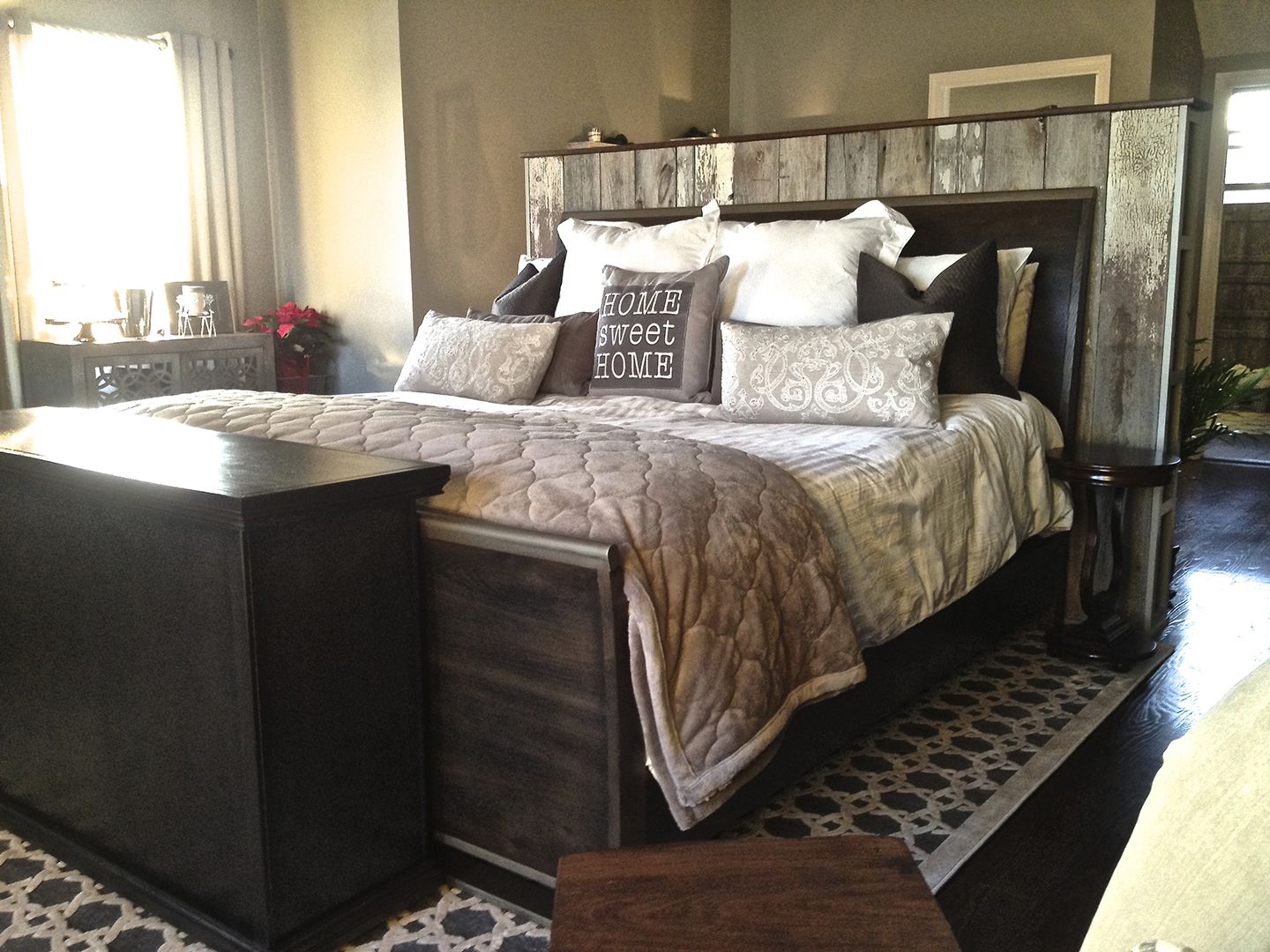 1. The Modern Farmhouse Bedroom
This is one style trend that has been hot in recent years and will continue to be so. It's cozy and eclectic, giving you plenty of latitude to express your individuality while maintaining a homey aesthetic that will make you never want to leave your bedroom.
Blending comfort and simplicity, a modern farmhouse bedroom draws from a warm, neutral color palette that keeps the space looking fresh, clean and modern. A warm white frequently is the predominant color with earthy browns, tans and grays used as accents.
Modern farmhouse design is characterized by mix-and-match furniture that utilizes unique materials like reclaimed wood. Pairing the new with the old is just one more way to make this style choice distinctive and unique. Sleek lighting and pieces that are constructed from natural materials like rattan, wicker, cotton and sisal always look at home in a modern farmhouse.
With industrial accents like a hanging barn door, an iron bed, a wooden mantel and exposed beams, your modern farmhouse bedroom is the cozy retreat that you've been dreaming of.
2. The Super Luxe Bedroom
Bedroom interior design frequently is neglected when families buy a new house. Special efforts may be made on common areas like living rooms, kitchens and dining rooms, but spaces that generally are more private often get short shrift.
This is a shame, because the bedroom is the place where the day begins and ends. As such, it deserves to be styled to perfection so that it can function as the cozy and elegant retreat that it should be.
The concept of the super luxe bedroom takes this concept and magnifies it by 10. Think of the most luxuriously well-appointed high-rise hotel in which you have ever spent the night. Now, imagine that your bedroom captures all of these elements and then some. Isn't that the kind of space in which you'd want to spend one-third of your life?
Consider elements such as sleek, motorized shades on the oversized windows, a bed that includes undermounted sensory lighting and upscale linens with a variety of beautiful and interesting textures. A luxuriously upholstered headboard, mirror finishes on furnishings, chairs and sofas made from dark wood and neutral cushions and a sumptuously soft accent rug are just the beginning of the possibilities.
Why not have the luxury hotel experience every night of the week? The super luxe concept transforms your bedroom into the escape that you need from a hectic life.
3. A Retreat to Nature
In modern society, technology tries to bombard people on a 24-hours a day, seven-days a week basis. With smartphones, tablets, laptops, PCs and other devices all competing for attention, it's easy to feel harassed and stressed, even in the one room that is always supposed to be a peaceful retreat.
Realizing that device fixation isn't conducive to a good night's sleep, many clients are beginning to request bedroom interior design solutions that help them to relax and unplug. Sometimes, these solutions are simple, like placing fewer electrical outlets in the bedroom to encourage keeping devices elsewhere.
Other important elements in the bedroom that help to make it a less-technology-friendly environment include soft, moody lighting, serene color schemes and top-of-the-line bedding. More and more people also are choosing to remove televisions from their bedrooms while making more room for live plants. Especially popular right now is the olive tree with its sophisticated sage greenery. Add some natural stone and wood elements to create a space that allows you to get back to nature in the best possible and most luxurious way.
It's wise to choose a bedroom design that's an oasis from the hustle of the modern world. A retreat to nature aesthetic allows you to experience a leisurely escape every night.
4. Choose Wallpaper
Wallpaper is back in a big way, but this isn't the same wallpaper that you were accustomed to in decades past. Today's wallpaper offers incredible variety, and you'll find plenty of choices to go with any style of bedroom interior design that you prefer.
If you want a bedroom that's pretty and romantic, opt for wallpaper in muted, pastel colors in delicate damasks and fine-line florals. In a contemporary setting, consider a bold geometric pattern with metallic or high-gloss accents. Use bold, large-scale florals on one wall in a contemporary room to make a decisive statement.
A more traditional aesthetic may prove to be the perfect setting for a reserved striped wallpaper. To enhance the casual feel of a relaxed and homey bedroom, consider a faux-finish wallpaper in stucco or beadboard. Pair these with floral designs for a relaxed yet modern look.
Some people also are experimenting with using wallpaper as an accent in the back of built-in bookcases or using these wall coverings to highlight a reading alcove or other special space within the bedroom. When using wallpaper in a smaller area, you may consider going with something really bold like an animal print or geological pattern, both of which are enormously popular, especially in bedrooms with an ultra-modern feel.
If you are a firm believer that walls don't have to be boring, then perhaps it's time to consider using wallpaper on one or all four of your bedroom walls. With an expert interior designer, it's possible to make any patterned or textured wallpaper work in any space.
5. Go with a Canopy
Gone are the days when the canopy bed was solely the frilly domain of little girls. Canopy beds make a major statement in master bedrooms these days with nary a frill in sight.
In a contemporary bedroom, consider a mirrored bed frame that features a headboard and canopy that are upholstered in a luxe velvet. Alternatively, opt for an authentic wooden canopy bed that's covered in a coat of dark stain. With its massive proportions, it provides the ideal focal point in a bedroom with farmhouse or rustic influences.
If you prefer more of a minimalist aesthetic, try a platform canopy bed that's constructed from lightly stained wood. Clean lines and sleek details make it a restful retreat.
From rustic log beds for mountain cabins to iron canopies for an industrial aesthetic, these aren't the canopy beds that little girls dream of, but they certainly may appeal to you.
Ask Evenflow Interiors about these and other amazing bedroom design trends that can turn your space into an oasis. We take pride in listening to the unique needs of each of our clients to ensure that they get the best possible outcome. Whether your preferred aesthetic is contemporary, traditional, bohemian or something else entirely, we have the expertise and creativity that you need to realize your interior design dreams.